We love traveling to Mexico, to experience the warmth and generosity of its culture. We believe in "Cultura Cura." We specialize in Mexican cultural guided trips, that focus on history and art, shopping, and culinary. Mexico's magic towns and the Latino cultural experience in the Americas. What is a magic town? These are towns in México with preserved history, folklore, and celebrated artisans. They create a rich cultural experience for their citizens and tourists. Our favorites include, México City, San Miguel de allende, Oaxaca and Puebla. Enjoy our travel guides to include "The Latin American Culture Experience in America's" series.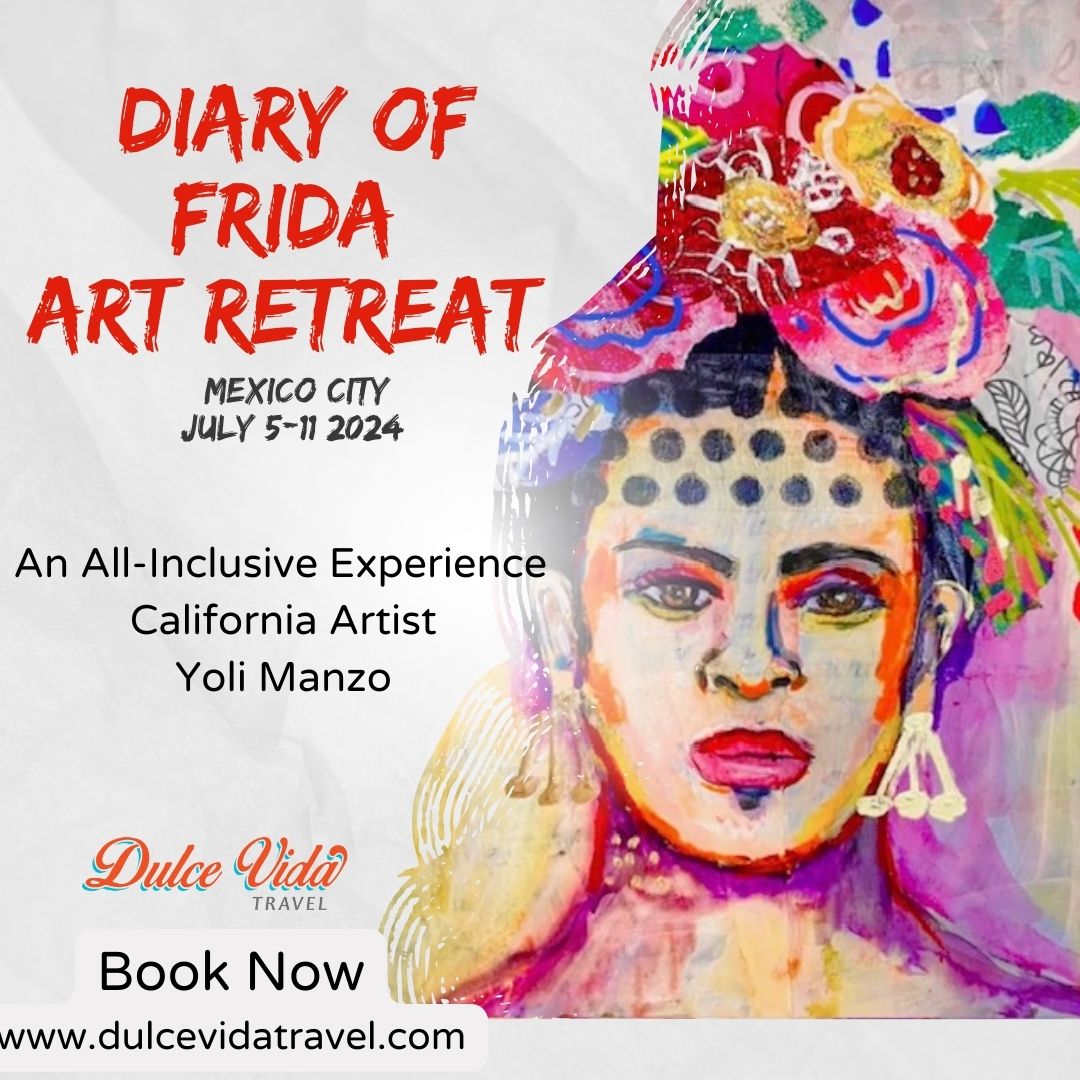 Join California Artist Yoli Manzo in a hands-on Art Retreat and Rose Mendoza, the owner of Dulce Vida Travel & Mexican culture expert, as your Art Instructor and guide.
A 6-day Art Journaling workshop  & cultural immersion experience; inspired by the art of Frida Kahlo and her love of Mexico City. We will be immersing ourselves in the love, passion, and drama of Frida through an all-inclusive art Journaling cultural tour. 
Art Retreat - California Artist Yoli Manzo will host daily art workshops. Yoli is well known as a highly creative mixed-media artist in the Sacramento area, where she now resides. Yoli has immersed herself in making and exhibiting her Latino-influenced art that includes icons such as Frida Kahlo, Santos, and Guadalupe, vivid colors, and edgy sensibility. Folk art and abstracts are a large focus of her recent works. Classes include Journal making, and sketching field trips. Followed by shopping and cultural experiences led by Rose Mendoza. 

This art retreat is perfect for both artists and non-artists!
The classes are designed and paced to enjoy the experience with Yoli teaching both simple and advanced techniques on how to create the perfect art experience.
Our primary focus of the retreat is on the process of creating art, having fun, and learning to experiment as well as taking the time to appreciate all the art and culture that inspired Frida Kahlo.
¡Feliz Navidad! Celebrating Christmas in Mexico with Tradition and Joy Christmas in Mexico, or Navidad, are vibrant celebrations with a family fun festive spirit. Famlias immerse themselves in these Mexican...

¡Feliz Navidad! Celebrating Christmas in Mexico with Tradition and Joy Christmas in Mexico, or Navidad, are vibrant celebrations with a family fun festive spirit. Famlias immerse themselves in these Mexican...

Read more

The Diary of Frida An Art Journaling Retreat Mexico City MX Art Journaling retreat exploring ;La Vida de Frida Kahlo Join California Artist Yoli Manzo in a hands-on Art Retreat...

The Diary of Frida An Art Journaling Retreat Mexico City MX Art Journaling retreat exploring ;La Vida de Frida Kahlo Join California Artist Yoli Manzo in a hands-on Art Retreat...

Read more